Join us in supporting underrepresented young adult entrepreneurs. We provide one-on-one business mentoring, entrepreneurship training, and access to startup funding to help our entrepreneurs build their business dreams.
The Problem and Opportunity
The Kauffman Foundation recently estimated that underrepresentation in the entrepreneurial ecosystem costs the US more than 2 million additional businesses and more than 9.5 million jobs.
There is a youth unemployment crisis.
18 to 29 year olds have the highest underemployment rate since World War II, and the number of college grads working minimum wage jobs is at its highest rate ever. (AP, US Census, BLS) "America's unemployed youth will cost an estimated $4.7 trillion over their lifetimes in lost revenue, welfare, crime and health care expenditures." (White House Council)
Startups—the main drivers of job creation—are dying.
Over 60% of all net new jobs come from startups, but only half as many businesses are being created today as a generation ago. (SBA, Kauffman Foundation) Increasing opportunities and exposure to innovation for poor, women, black, and Latino youth could quadruple the number of innovators in the US. (Equality of Opportunity Project)
The Opportunity
Over 11 million young adults from underrepresented communities in the United States want to start a business, but lack the support and resources to do so. (SBA, Kauffman Foundation) Over 10 million professionals want to volunteer their time and talents to help others succeed. (LinkedIn Research)
There is a massive opportunity to connect underrepresented young entrepreneurs with skilled volunteers at scale on a digital platform, helping build the next generation of business owners.
Our Solution
At skysthelimit.org, we are laser-focused on providing quality one-on-one support to our young entrepreneurs throughout their business journey.

We develop our entrepreneurs' social capital - skills, connections, knowledge, and access to business opportunities - by building meaningful relationships with our volunteer business men and women.
As a tech nonprofit, we leverage a digital platform to make meaningful connections from anywhere, at anytime. Our young entrepreneurs (ages 18 - 29) are digital natives, and our experienced volunteers are busy and not always located where the need is. Our remote advising and mentorship opportunities allow volunteers to connect with young entrepreneurs in a way that is both convenient and effective.
Our highly-scalable platform approach benefits from "network effects" - the bigger we get, the more valuable matches we can make for our community members.
How it works on skysthelimit.org's platform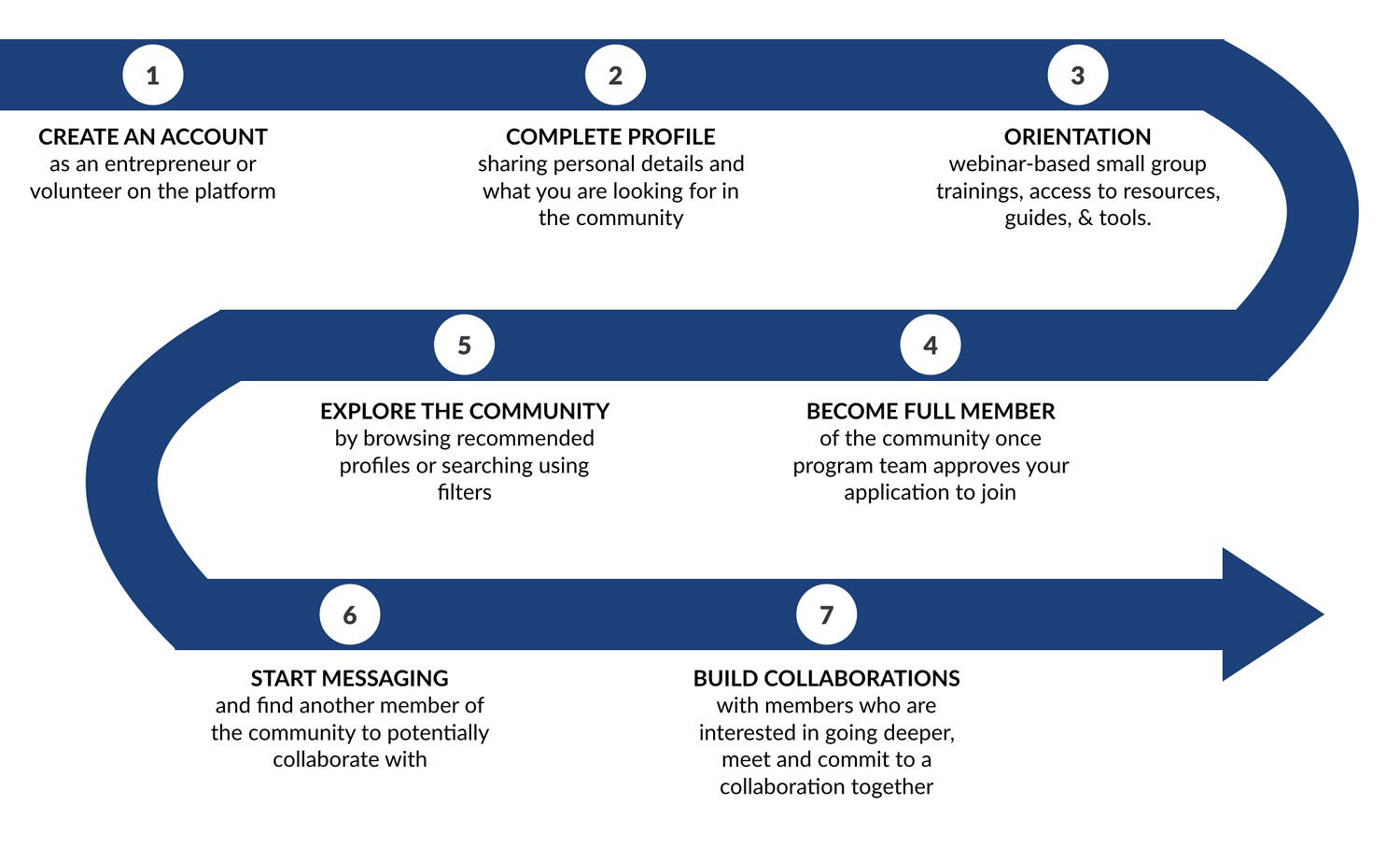 Our Programmatic Edge
We combine a modern digital user experience and a highly scalable model with our team's excellent programmatic execution.
Recruitment: our strong digital marketing competencies across content marketing, SEO, and Google AdWords drive our recruitment of entrepreneurs & volunteers. Our proven Corporate Partnerships model drives top talent from the Fortune 500 and small business community to our platform.

Screening: our platform-based onboarding provides rich data for our team to curate a high-quality community of entrepreneurs & volunteers - each full member passes a 12-point selection process.

Training: we provide research-backed training in mentoring best practices, based on the work of the Center for Evidence-Based Mentoring at UMass. We offer our volunteers Diversity, Equity, and Inclusion trainings focused on growth mindset, perspective-taking, and inclusive communications. And our entrepreneurship trainings expose our community to leading practices, such as the lean startup, effectuation, and bootstrapping methodologies.

Matching: in collaboration with Accenture's AI Labs, we developed a machine learning algorithm to recommend the best matches between entrepreneurs and volunteers. We used human-centered design to build an innovative matching experience on our platform that mimics the way that people develop professional relationships naturally.

Support: using our platform's user data, behavioral analytics, and in-app rating system, our team can intelligently support matches at scale, driving a great experience for the community. We care deeply about the people in our community. We go above and beyond to meet our entrepreneurs & volunteers needs, from one-on-one consultations, to phone and email support, to developing reusable resources & tools.

Evaluation: through our platform's analytics and 20+ point milestone tracking system, we collect nuanced, longitudinal data about how to best support our entrepreneurs to achieve their business goals. This data drives real-time learnings for our team that allow us to quickly design and deploy solutions - from creating new learning content to building new features on the platform.
Our Additional Services Complement our Mentoring Program
Curriculum and Resources: our young adult-adapted entrepreneurship curriculum, called Pathway to Business Ownership, is designed to be used by mentors and mentees to support their work together. These tools create structure around building a business - from identifying customers, to sales operations, to business modeling templates. It also provides elearning by content area, industry, stage, etc.

Startup Funding: we offer our entrepreneurs risk-tolerant startup grants from our Friends and Family Fund (pilot launched in Q4 2018) to help them build their business with up to $2,500. Each month, our volunteers, entrepreneurs, and donors select who gets funding by voting on our platform. In collaboration with Accenture's Blockchain Labs and Hyperledger, we built an innovative, custom blockchain to power our transparent token-based voting system.
Outcomes for young entrepreneurs: Social Capital
Connections & Access: new relationships across industries, geographies, and areas of expertise unlock new business oppportunities, build awareness, and increase access to capital.

Skills Development: hard skill development (e.g. financial management, product design, branding, marketing, etc.) & soft skill development (e.g. communications, problem solving, collaboration, leadership, etc.)

Knowledge: deeper understanding of entrepreneurship methodologies, business areas, and entrepreneurial mindset development.

Confidence: knowing that people you trust have your back makes our entrepreneurs more willing to try, fail, learn, and keep going.
Our Impact
New businesses and jobs created by underrepresented young entrepreneurs in underserved communities.

Employability and life outcomes improved through practical business experiences and increased social capital.
> 9,000+ trained
> 150+ businesses created
> 250+ jobs created
By the Numbers
We've secured substantial initial funding.
We have raised over $4m in grant funding from corporations, foundations, and individuals, including world-leading companies like Accenture and eBay.
The skysthelimit.org platform is live and ready to scale quickly.
Our team of 15+ software developers and designers have written over 50,000 lines of code to build and deploy our platform. Live now for over 18 months, we've created a compelling and valuable experience.
We've made an impact and built businesses
Still in our early stage, we've already helped launch or grow over 150 young adult-led businesses, which have created 250+ jobs and generated millions of dollars of revenue all across the country.
There is major demand for our services.
With over 16,000 users are on our platform, with approx 800 added in the past 30 days. We're growing fast.
We're Alone
While many brick-and-mortar entrepreneurship programs exist for kids or the general adult population, we are the only national program focused on the unique needs of underrepresented young adult entrepreneurs.
Our Nationwide Community
Over 16,000 young entrepreneurs and volunteers in over 40 states.
Press Mentions
Note: We are a 501(c)3 nonprofit based in Oakland, CA (EIN# 27-4333255). We are doing business as skysthelimit.org, we are also known as Youth Business USA.
Entrepreneur Spotlight
Brianna, founder of Catrina's Popcorn
Brianna joined skysthelimit.org in 2015. Brianna was born to be an entrepreneur. By the age of twelve she had sold various products, from donut holes to pens, and even ice cream. As a teen, her life took an unexpected turn when she was trafficked by an exploiter throughout California. She escaped in 2012 and has since dedicated her life to educating other ladies about the warning signs of human trafficking.
"My dream is to empower young people and victims of trafficking by showing them no matter what you have experienced, you can always overcome it. I am living proof." - Brianna
When Brianna first came to skysthelimit.org, she was eager to start a business of some kind. She spent many hours over six months at the white board with her business advisor thinking through different business ideas and clarifying her direction before she decided to carry on her family's legendary popcorn recipe and launch Catrina's Popcorn.
"It was really helpful to get [my advisor] Bo's support thinking through my business ideas. It helped me clarify my goals and settle on a direction for my business." - Brianna
She was then introduced to skysthelimit.org volunteers, Sylvia and Michael, who were excited to find an opportunity where they could work together as a couple to help others by offering their own experience as entrepreneurs. The three of them started their journey together working on the marketing and packaging for Catrina's Popcorn. They then moved on to her pricing and sales strategy as Brianna prepared to launch her first line of corn.
"One of the things that Sylvia and Michael have really helped me with is putting a dollar value on my time. Time is money." - Brianna
Brianna launched her business selling bags of popcorn at a skysthelimit.org holiday fair in 2016. She has sold tens of thousands of dollars of popcorn, and is working on a business proposal for another business idea — building business kits for kids and survivors of human trafficking to build their own businesses.
"This is one of the hardest things I've done. I wasn't sure where to go and the mentorship has been super helpful. They have also become life mentors. They have provided incredible emotional support to me through some tough times." - Brianna
Sylvia and Michael continue to work with Brianna when she needs business help, or just to meet over a meal and share life's ups and downs.
"I have gotten so much satisfaction from seeing someone else grow. It's been really inspirational. It's also inspiring to me to think about other businesses - it helps me with my own business." - Sylvia
In 2018, Brianna received a business grant for $2,500 from skysthelimit.org's Friends and Family Fund to help her grow her business, as she aims to get her popcorn into stores, such as Whole Foods. Brianna's business employs two people now, and she has big plans for the future!
Founders
Bo Ghirardelli
Co-Founder and CEO
Bo knows that talent is everywhere, but opportunity isn't. Born and raised in Oakland, CA, Bo Ghirardelli has a passion for entrepreneurship, experiencing other cultures, and social equity. Bo spent time as a public middle school teacher in South Central LA with Teach For America and served in North Africa with the Peace Corps. He has been the founder of four organizations, two nonprofit and two for-profit. He founded Skysthelimit.org to build the social capital of underrepresented young entrepreneurs by connecting them with experienced business advisors & mentors in the United States. Bo leads a team of 20 people at skysthelimit.org, and has raised over $4 million in support of their mission. Bo has also personally advised and mentored over 150 diverse young entrepreneurs.
Nicolas Cary
Co-Founder and Chairman
Nicolas leads our Board of Directors, strategic partnerships, and strategy for the platform. He is also the co-founder and President of Blockchain, a financial technology company with over 20 million users of its digital platform. Nic has raised over $70 million in venture funding from top global investors, like Google Ventures and Sir Richard Branson. He was named "European Digital Leader of the Year" in 2015, and the World Economic Forum recognized Blockchain as a 2016 Technology Pioneer.