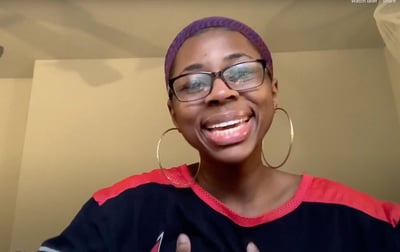 Saving Angels | Aldan, PA
"I want to be that person in their life that they didn't get to have. Whoever they need me to be to them: I'm their mentor, sister or even a friend. Whatever helps you to succeed to become the best version of yourself, that's me."
Makaila Davis is her own saving angel
Makaila Davis has always known she was all she had. Growing up in an abusive family, she ended up homeless for six months over the winter of 2018-19 when she was sixteen. It would have been understandable to give up, but Makaila's drive to succeed was too strong. She knew that if she could survive being homeless, she could turn that experience into a positive impact on the world. She focused on her future in order to get out of her present circumstances.
"Through my many trials and tribulations, there was still a light at the end of the tunnel for me."
Saving others the way she saved herself
Although she had initially dropped out of high school, Makaila found a charter school where a guidance counselor helped her figure out how she could finish her missing credits in order to graduate in August of 2020. Now, at only eighteen, she is embarking on many new journeys. She currently has a steady job as a pharmacy tech, will start college at Regent University soon, plans to become a pastor at Andersonville Seminary, and is starting a business. One of the reasons Makaila is so driven is that she wants to make sure no other girls endure what she did. So she created a business plan and founded Saving Angels, a non-profit organization aimed at helping pregnant and runaway teen girls not just survive but flourish. She wants to be the support system for these girls that she didn't have.
"I want to be that person in their life that they didn't get to have. Whoever they need me to be to them: I'm their mentor, sister or even a friend. Whatever helps you to succeed to become the best version of yourself, that's me."
To that end, Saving Angels won't be just a place to live, though a physical space where girls can feel safe is very important to Makaila. Funding from Sky's the Limit will help her achieve that goal. Her larger vision for Saving Angels is to offer programs and services to show these women how to take care of themselves in every aspect from getting a driver's license and applying for jobs to managing money and doing taxes. The participants will be required to graduate from high school and they will then be encouraged to further their education through vocational training, college, or other options. In order to fully address all the needs of the young women living at Saving Angels, Makaila plans to employ on-site psychologists, therapists, and psychiatrists. Right now, the organization already has a board of directors that includes business owners, a teacher, a social worker, and spiritual advocates. Makaila's ultimate goal for Saving Angels is to foster "a peaceful and loving environment."
No longer flying solo
Although Makaila is used to relying on herself, she knows she can't succeed entirely on her own. First her high school guidance counselor and now volunteers from Sky's the Limit have helped her along the way. Sky's the Limit mentors Srinivas Nakkina and Tricia Nix have been providing much needed moral support. Their meetings always extend beyond the original time and topic commitment, giving Makaila the feeling they're really invested in her success. It was Makaila's personal background that interested Tricia, and she has enjoyed being a sounding board for her. She helps Makaila stay focused on her goals and keep perspective on her project.
"Reading her story, I could relate to some of it, so I sent her a message… A lot of it is just her talking and me listening and I give feedback when I have useful feedback. And as she's talking, she writes things down."

Tricia Nix
Business Architect Associate Manager at Accenture
Srinvas is impressed by Makaila's "very clear" goals and he is rooting for her to be successful and fulfill her dreams. He has even agreed to do the business's taxes once it reaches that step.
"Makaila is very kind, brave, strong and dedicated. She went through very hard and difficult times but at the end she proved herself with courage."

Srinivas Nakkina
Consultant at Accenture
Are you ready to take that first step in launching or growing your business?
Or, are you interested in mentoring or advising entrepreneurs like Makaila?