Welcome Year Up Alumni!
Skysthelimit.org has partnered with Year Up to connect Year Up Alumni interested in either giving or receiving entrepreneurship support through our digital platform.
Why Skysthelimit.org?
Year Up and Skysthelimit.org share a mission to close the Opportunity Divide for young adults and empower them to reach their potential. Skysthelimit's mission of empowering young, underrepresented entrepreneurs to fulfill their business dreams and our unique digital platform complement the work Year Up is doing to close the Opportunity Divide by providing urban young adults with the entrepreneurial skills and support that will empower them to build successful businesses.
By working together across the country, we can serve more young adults and provide another way for the Year Up community to stay connected and continue on the path to economic self-sufficiency for all young adults.
Additional reasons to join:
There is a need for support. There are more than 11 million young adults ages 18 to 29 nationwide who want to start their own business but lack the support they need — and a caring supporter can make the difference in their trajectory.

We provide research backed solutions. Studies have shown that social capital is critically important in determining the survival chances of a new company.

Talent is universal. Opportunity is not. Our entrepreneurs are age 18 to 29 years old and have little support from the existing entrepreneurship ecosystem. 85% are people of color, 80% are low-income, 70% are women and most are starting their first businesses in areas mostly outside of tech, everything from clothing brands to food trucks to tutoring companies.

We believe in growth mindset. We believe the key to empowering aspiring business owners is to provide them with the right support from the right people at the right time. Entrepreneurship is a skill set that anyone can improve, but there is not a level playing field and not everyone has access to the support they need when they need it.

You control your level of commitment. Volunteers and entrepreneurs get to see each other's profiles in the community, and choose who to connect with, virtually or in person. You have control over when you meet, how often and for how long.
There are many ways to be a give and receive support on Skysthelimit.org!
Make an Introduction: Know someone you think should meet a young entrepreneur? Connect them!

Give Constructive Feedback: Read their business plan, profile, etc. and provide tips via chat, phone, video, or in-person.

Listen & Ask Questions: Talk to an entrepreneur, ask them questions to push their thinking, offer encouragement!

Advise: Help in a specific area of their business over a short (or long) time period. Provide timely, expert advice and feedback (e.g. accounting guidance, marketing tips, website design) to help an entrepreneur move their business forward.

General Support: Support young entrepreneurs across all areas of their business. Serve as a dynamic generalist and build longterm, meaningful relationships with entrepreneurs.

Donate & Vote: Make a donation, and then use the platform to vote on young entrepreneurs' campaigns, winners receive up to $2500 in startup grants.

Organize a Company Program: Get your team or company involved in helping young entrepreneurs with skysthelimit.org.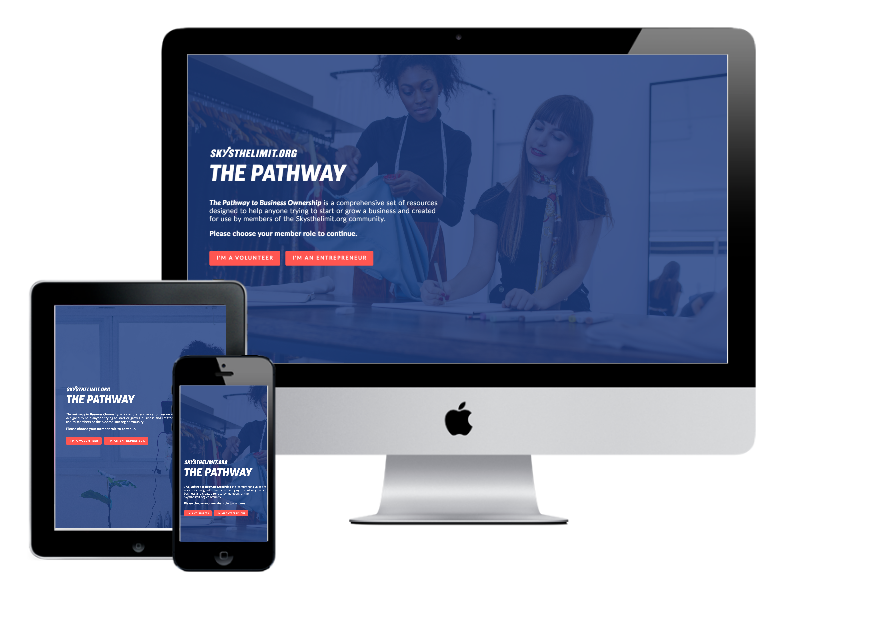 The Pathway to Business Ownership
All members receive access to our Pathway to Business Ownership resources upon signing up. This includes 100+ hours of training and interactive forms and templates that entrepreneurs can use on their own or with a volunteer supporter.
You don't have to have started a business to offer support to a young entrepreneur. If you are a business professional with a genuine desire to see young, underrepresented entrepreneurs achieve success, we'd love to have you join our volunteer community!
Skysthelimit.org volunteers are experienced business professionals with a genuine interest in helping underrepresented young adult entrepreneurs achieve their goals. Whether you're someone just starting your career, an experienced executive, or a serial entrepreneur yourself, young entrepreneurs will benefit from your support!
Benefits to joining as a volunteer…
Please be sure to note that you are a Year Up alumnus in your member profile!
If you are an entrepreneur age 18 - 29 from an underrepresented group (including women, people of color, LGBTQ+, people with disabilities, formerly incarcerated, formerly in foster care, low-income, or any other groups statistically underrepresented in the greater entrepreneurial community) you likely qualify for our program. Entrepreneurs beyond age 29, may access our online resources but will not have access to volunteer support or funding. If you are over age 29, you can connect with younger entrepreneurs for peer-to-peer support!
Our entrepreneurs are motivated, passionate and working on their businesses whenever and wherever they can. Whether that be full-time, while taking care of their families, while going to school, or while working other jobs, they are starting businesses in a multitude of industries, including food, clothing, landscaping services, beauty, tutoring companies, and social enterprises. Some are in the early stages of planning their business idea, while others have already launched and are seeking help to sustain and grow. Sound like you?
Benefits to joining as an entrepreneur…
Please be sure to note that you are a Year Up alumnus in your member profile!