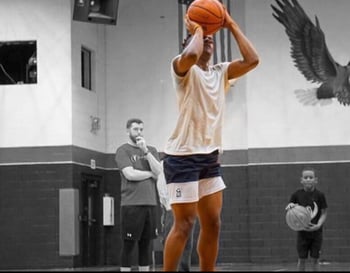 HL Sportswear | Raleigh, NC
Dier Kombo's sportswear company is blurring the lines between basketball and fashion
Hustle has always been part of Dier Kombo's personality so it isn't surprising that he ended up starting a business. How he arrived at HL Sportswear is where the story gets interesting.
"Starting from scratch I feel like that made starting a business more difficult."
Dier is realistic about the challenges he faced when he was first starting out with his business. He didn't do any research, and he was impatient so he rushed some aspects he should've spent more time on. Those are the things within his control. The external challenges he encountered were not having a support system to encourage him and that includes not having a mentor. He sometimes found that he lacked motivation, which was a product of not having that support, and not knowing how to keep going.
However, Dier is no stranger to the hustle so he did keep going. When he was growing up, he didn't have access to all the things he wanted so he learned to go out and get them for himself. It was always important to Dier to make a name for himself, but it wasn't until he started leaning into his creative side that starting a business occurred to him. He has always liked to draw, and when he focused on honing those skills, a fashion company was born.
HL Sportswear is for "all natures." It blends Dier's interests in designer fashion, art, and basketball to produce high fashion for everyday use. The HL Sportswear brand is designed to inspire its wearers to realize their full potential. Dier wants to remove the forces that are holding back his community, the same forces that held him back from his dreams. It's a grand mission, but Dier has help in achieving it. Charles Odei, a management consultant at Accenture, brought weekly tasks and goals to the table. He provided support "with the financial and tracking side. Also searching for beneficial resources to get my business to the next level."
"Dier is an incredibly talented and hard working entrepreneur. He's on an exponential learning curve as he progresses his business."
The Sky's the Limit community helped Dier refine his vision. The feedback he received on his business idea and business plan upped the level of seriousness. He says the business is more "professional, structured, and organized" now. He worked with Kevin Hogan, a brand marketing partnerships manager at Google, who "he helped me a lot with organizing my story, simplifying things, planning and putting together my ideas and also with the writing side and social media."
Kevin adds that Dier's entrepreneurial skills have really grown since they started working together. "Dier is an incredibly talented and hard working entrepreneur. He's on an exponential learning curve as he progresses his business. In our time collaborating, Dier has really honed his brand message, marketing tactics and is beginning to grasp the economics of the apparel business. We continue to earn each other's trust through open dialogue and collaboration on topics big and small."
"I want to be great and be the first millionaire in my family"
Dier isn't afraid to dream big. He wants HL Sportswear to be an international brand that lifts up not only its customers but its community. He envisions gyms that make the community better and he imagines HL Sportswear making a permanent mark on the fashion industry. Above all, Dier's business will put people at the heart of it.
Are you ready to take that first step in launching or growing your business?
Or, are you interested in mentoring or advising entrepreneurs like Dier?