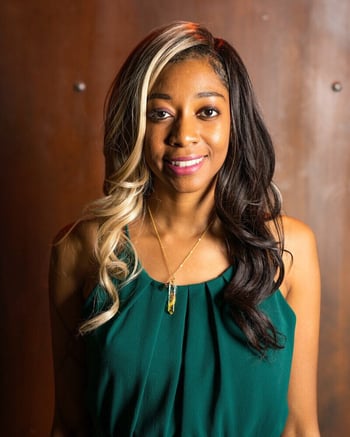 Lanee's Resin Alchemy | Miami, FL
Lanee Bradshaw's art empire is on its way
Lanee Bradshaw started 2020 in the emergency room and she intends to end it making art. Her biggest challenge in pursuing her business dream is believing in herself, but she is determined to overcome that. She has years of experience making jewelry and art, a family history of women entrepreneurs, and a trio of dedicated Sky's the Limit mentors behind her so it's a safe bet that she'll meet her goals.
Hands-on
Growing up, Lanee knew she'd have her own business someday. There were examples all around her. From her grandmother's design shop and her aunt's insurance company to her mother's rental car business, Lanee wasn't short on role models. She always liked working with her hands, and when she took a jewelry-making workshop, she was drawn to resin right away. Since she is typically more reticent, she knew to trust her gut and stick with resin as her go-to material. Her style didn't come all at once. A tip from her art instructor to try placing tiny items inside the resin sparked her interest, but it took awhile for Lanee to produce jewelry that she actually liked. Through this process, she learned to be persistent and stick with her projects. She says, "This year has truly been a testament to faith and endurance."
She has had to lean on that sense of perseverance a lot this year. Through medical issues and personal loss, Lanee has used her goal of starting her business to keep her going. Although she tends to view any adversity she has faced as a way to get stronger, she will admit that she sometimes has trouble believing in herself. Fortunately, she has a solid business idea, called Laluminary, and her Sky's the Limit volunteers, Jermaine White, Information Systems Security Officer at Accenture Federal Services; Candelaria De Jesus, Financial Analyst at Accenture; and Trini Peluffo, Corporate Development & Transaction Services Analyst at Accenture, are with her every step of the way.
"Having so many mentors with different levels of experience [has really helped me]. They are amazing and wonderful. I am so grateful for them! It's nice to be able to have that support, especially in these times."
She has appreciated Jermaine's grounded business advice. He shows her where to look for funding and keeps her ideas on track. Candelaria and Trini are Lanee's numbers people. They go over her business plan with her, and help her figure out how to price the items in her store.
Hands-up
Lanee is excited about the future of Laluminary. She is passionate about the power of art, and she wants to expand her business from jewelry and paintings to full scale art galleries. These won't be standard art galleries, though. They'll be harmonic, meaning the visitors' experience will be aural, not just visual. Ultimately, Lanee intends to create an immersive environment that engages all the senses.
"I believe in creating art that heals people."
Are you ready to take that first step in launching or growing your business?
Or, are you interested in mentoring or advising entrepreneurs like Lanee?