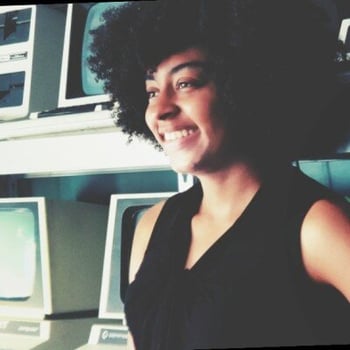 Ever Arable | San Francisco, CA
Keiarra's hydroponics empower herself and others like her
People experiencing housing insecurity and poverty often don't have access to a reliable and healthy food source, and Keiarra Ortiz-Cedeno, founder of Ever Arable, was no exception. Like so many other Sky's the Limit entrepreneurs, Keiarra's personal experience led her to a business idea that would lift up herself and others in her situation.
Basic needs mindset
Keiarra remembers identifying the disconnect between working hard and getting ahead. She had been doing the former but the latter remained out of reach. She was in college and had a job at a non-profit that worked with refugees. She found the work fulfilling, but the pay wasn't enough for her to cover basic expenses. She read a book called Rich Dad Poor Dad and started to rethink her position. She realized she already had the tools to save herself. "Whether life was fair or not, I had to get up, find a way to feed myself, and dig myself out of my situation, or my reality would continue to be the same."
She decided to focus on food, a basic need that most people take for granted. She knew it should be within her control even if it didn't feel like it was. She was living in an apartment with no green space, but she wanted to be able to grow her own food, to take that one worry off her plate. "I found myself in a position where I could not afford to feed myself AND pay my bills. It was then that I started questioning the way that food was acquired, sold, and perceived."
Eventually, her internet searches led her to hydroponics, and she was hooked. She was excited at the prospect of growing food right in her apartment. She made her first hydroponic kit with old Keurig cups and a cupcake container. Then she found some similarly-minded students at her university and began working on a more sophisticated model. They worked together for awhile, but eventually the others moved on. The company is called Ever Arable, and Keiarra is now the sole owner.
Business mindset, business challenges
Even though Keiarra has complete confidence in the viability of her business idea, her path to business ownership has not been easy. It takes both time and money to start a business, and she was supporting herself while going to school so she lacked both of those resources. She was scrappy and determined, though, and just refused to give up—even in the face of impossible odds and a system that was not designed for her to succeed, especially when it came to funding.
"I have trouble qualifying for bank loans, being taken seriously by investors, and gaining worthwhile co-founders."
At networking events, Keiarra and her ideas are often dismissed. In a white and male dominated environment, her ideas have been ignored, not taken seriously and, even worse, stolen. Setbacks and discrimination have made Keiarra even more determined to get her business up and running.
"I realized that If I don't put in the work to save myself, I will never see the change that I want. When running a business, if you don't do the work, it won't get done."
Growth mindset
Keiarra's goals for Ever Arable are clear: she wants to flip the narrative that only a privileged few can grow their own food. The food supply chain for those in poverty is too long and convoluted; Ever Arable aims to shorten it and empower its landless users in the process. While she still makes and sells hydroponic kits, research and development is her focus these days. In addition to R&D, she hosts meetups in San Francisco where she teaches the community how to use hydroponics, and she eventually wants to take this education into schools so kids grow up believing they can be in charge of supplying their own food.
Entrepreneurs like Keiarra are why Sky's the Limit exists. Having access to a community of volunteers like Dom Brooke, Strategy Consultant at KPMG, and Brian Higgins, Senior Manager at Accenture, that treats her well has been a game-changer.
"I am eternally thankful for how easy Sky's the Limit makes it to find mentors. They speak to you like you are a serious business person. I did not know how much I was lacking that sense of legitimacy until I found it here."
Are you ready to take that first step in launching or growing your business?
Or, are you interested in mentoring or advising entrepreneurs like Keiarra?