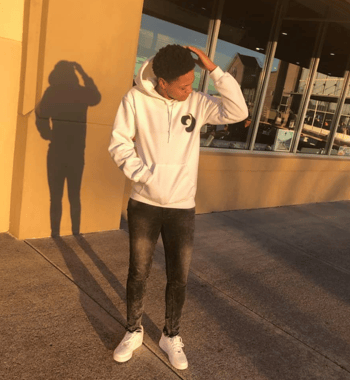 VIVID Clothing | Murfreesboro, TN
The "Audacious Prodigy"
At the age of 17, Quannie Briley left home, knowing she needed to support herself and her dreams. She got a job at KFC and worked her way up, even declining a management position in order to attend college as a nursing major. Eventually, the financial pressures became too much. She dropped out and experienced housing instability for nearly three years.
"During that time, I suffered mentally but grew professionally and spiritually. With hard work and dedication, I was able to provide myself with my basic needs and achieve my personal goals of getting my own place and reliable transportation which have prepared me to take on the challenge of owning my own business."
Through this experience, she realized she was an entrepreneur at heart. She came up with an idea for a social enterprise that would combine her passion for business with her drive benefit those who faced similar challenges in life.
Initially, Quannie planned to wait until VIVID Clothing had multiple designs ready and a website to take sales. After working with a mentor at Skysthelimit.org, she realized she didn't have to wait. She could launch her dream by offering an exclusive pre-sale to friends and family on Instagram. In late 2019, that's exactly what she did.
VIVID Clothing's first pre-order of the "Audacious Prodigy" hoodies successfully sold enough to fund her first bulk order and launch her business! The on-trend pullover hoodie comes in five colors and features the logo, which symbolizes "individuality and turning dreams into reality." And, the best part? A portion of the sales from the hoodies goes to help local nonprofits.
Empowering Dreams…
Although the work to launch VIVID Clothing was all Quannie's, she is grateful for the role that Skysthelimit.org played in helping her launch her dream.
"Sky's the Limit has helped me tremendously during my journey. What started as an idea, has become a business where people actually are purchasing my products. Although, it has been a difficult journey, Sky's the Limit offers resources and volunteer help that has been unparalleled by any other program or person I have asked for help from."
#VIVIDLife - What's Next for Vivid Clothing?
VIVID Clothing now has a website where you can purchase the Audacious Prodigy Hoodie, and more products will be coming soon! VIVID is currently looking for support from volunteers with expertise in branding, marketing and mentoring, so they can "bring meaning to clothing by building a household brand that is known for its unique, thought-provoking designs and also its work in the community." Quannie hopes to help homeless families nationally and has this advice for any other young entrepreneurs looking to launch their own dream:
"Take the first step and do not be afraid of failure…. Failure is our biggest teacher. As hard as things were for me during my years of instability, I learned a lot of important things along the way that have made me who I am today."
Are you ready to take that first step in launching or growing your business?
Or, are you interested in mentoring or advising entrepreneurs like Quannie?