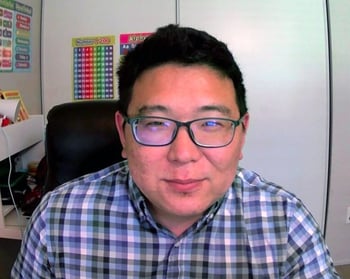 Play Duo | Fremont, CA
Anthony Erdenetuguldur is plugging into entrepreneurship
Anthony Erdenetuguldur has been "mesmerized" by tech his whole life, and even though the tech space may seem crowded right now, he found a niche need that hasn't been addressed. Anthony's passion for audio tech is lifelong, and his company Play Duo is the result.
"Every day, I reminisce about my late father, especially when he told me to take the first leap and become an entrepreneur."
Growing up in the Bay Area, Anthony was surrounded by cutting edge technology. He and his father shared a love of innovation and followed the latest trends together. On one hand, that made starting his business easier. On the other hand, he still experienced the lack of resources that other entrepreneurs like him face. He struggled with having enough money to start his business, but he stayed positive by focusing on what was working instead of what wasn't working. With this attitude, "problems tend to work themselves out," he says.
Anthony has wanted to start his own business since he was a teenager, and he knew that his love of headphones and his interest in entrepreneurship would be a winning combination. Play Duo's product is headphones that can be used for video conferencing, listening to music, and gaming. The headset will prioritize the needs of each of these disparate use cases so that the user is getting the best audio and aural experience no matter what they are using the headphones for.
"Sky's the Limit has immensely helped me, especially around finding mentors who can support critical needs that are currently facing my business."
When Anthony discovered Sky's the Limit, he was eager to take advantage of all the resources available to him there. He learned how to create a pitch deck and ask for investors, and he connected with several mentors like Casey Capshaw, Director of Customer Success at Strata Identity. "Casey helped me immensely with my business plan creation," he says. "We discussed and updated key business plan segments on social responsibility, go-to-market strategies, customer segmentation, and planning."
His passion for the solution he's creating is fueling him and I think we have him positioned well to seek early seed capital."- Casey Capshaw
About working with Anthony, Casey says, "Anthony and I collaborated in the early stages of a visionary audio hardware project he's bringing to life. Specifically, we focused on his business plan, identifying and fleshing out the story, the unique value proposition, and key differentiators. We also did some SWOT analysis and acknowledgment that he is entering a highly sophisticated and competitive market. His passion for the solution he's creating is fueling him and I think we have him positioned well to seek early seed capital."
Nic Cary, co-founder and vice president of Sky's the Limit, and Lilly Nguyen, a Corporate Development & Transaction Services Analyst at Accenture also supported Anthony, especially as he learned how to ask for funding. He says, "Nic and Lilly helped me prepare for CVC Young. Innovators pitch this spring, and through their feedback, I successfully pitched to my first VC. These experiences have made me a better entrepreneur, and I am very thankful for the support I received from them and Sky's the Limit staff."
"With a startup, I can change the lives of many by creating jobs."
Anthony isn't in this just for himself. His perspective on entrepreneurship is that it's his opportunity to give back, and he has a few plans for how to do that. First, he wants to finish his prototype and get his product to customers so that they can begin to have a superior headphone experience. Then he plans to hire people who are as passionate as he is and expand Play Duo as a company. He doesn't envision working at Play Duo to be just another corporate job for his employees. He sees hiring people as "sharing his success." Lastly, he hopes that he can use Play Duo's success to become an angel investor and help others achieve their dreams of entrepreneurship.
Are you ready to take that first step in launching or growing your business?
Or, are you interested in mentoring or advising entrepreneurs like Anthony?